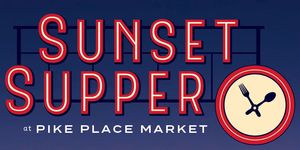 Huzzah!  Hooray! Folk and Blues busker Extraordinaire PK Dwyer is honored to be performing at the 2021 Sunset Supper At Pike Place Market. Mighty PK will be playing a one hour set  of original material starting at 8:45 pm.
Sunset Supper is an outdoor dining event in Pike Place Market that will be the first of its kind to return to Seattle this summer on August 20, 2021!  This year's Sunset Supper will have reduced capacity, ample space and tables for all of our guests, we are planning an incredible tasting event to support the Market's Recovery. The health and safety of our community is our top priority, so we will strictly adhere to state and local guidelines and vaccinations are required for all guests, vendors and volunteers. 
The Pike Place Market is proud to showcase and support the incredible small businesses and restaurants of Seattle's iconic food destination! Guests will dine al fresco in the heart of Pike Place Market and enjoy a curated supper made by famous chefs from Pike Place Market and across the region. Your dinner menu is complimented with a wide variety of Washington wines, local, craft cocktails, brews and tasty desserts. Play our Golden Raffle or Prize Wheel and enjoy local music, as the 25th annual Sunset Supper makes a celebratory return!
This event is Sold Out!  There is a Waiting List for tickets.