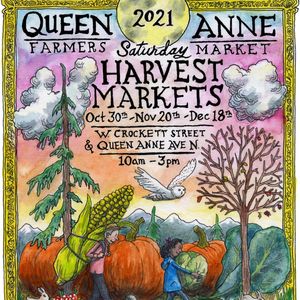 Experience the bounty and join the festiviteis!  PK Dwyer performs at the Queen Anne Harvest Market on Saturday, October 30.
The Queen Anne Farmers Market has launced a series of Harvest Markets and PK Dwyer brings his all original Folk Roots and Blues to the inaugural on October 30 and performs at 11:00 am.  PK will be presenting well loved tunes from his song catalogue featuring quick fingered guitar work and fireball harmonica riffs along with a selection of beautiful and dynamic songs on autoharp.
Enjoy the beauty of Fall in the Pacific Northwest and the bounce of the musical artistry of PK Dwyer.  Market runs from 10:00 am - 3:00 pm
Show Ol' Busker PK some Love and Tip ♡ Hearty Folks!