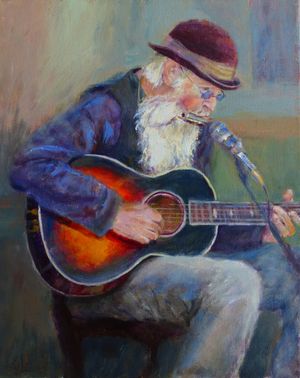 A friendly announcement to let all of you true Folk Roots and Blues fans that PK Dwyer will be returing to C&P Coffee Company for another special performance on Sunday, November 7th.  Don't miss out on the fun as this is one of PK's last scheduled performances of the year!
Show time is from 3:00 - 5:00 pm and Mighty PK will be presenting 2 sets of all original material featuring his signature quick fingered picking and slide work on guitar along with fireball harmonica riffs and a selection of beautiful and dynamic songs on autoharp. 
C&P Coffee is located at 5612 California Avenue SW in wonderful West Seattle.  The super nice folks at C&P proudly serve Lighthouse Roasters coffees along with a rotation selection of beer and wine.  Not to mention a scrumptious selection of goodies to tempt your tummy.
*Due to Covid-19 protocols this is an outdoor performance and is weather permitting.  Bundle up and stop by to enjoy the very best espresso in Seattle and the unsurpassed musical artistry of PK Dwyer.
Show Ol' Busker PK some Love and Tip ♡ Hearty Folks!
PK Dwyer @ C&P Coffee Company
Sunday, November 7 @ 3:00 - 5:00 pm
5612 California Ave SW  -  Seattle
Keep in mind the Holidays are approaching and a PK Dwyer Cd makes a wonderful stocking stuffer for the music lover on your list!  See the PK Dwyer Works & Music page for available titles.  Pick one up at the show!